Hey Everyone Welcome to Mythic Iron Reaver This boss is very similar to its Heroic version with few added mechanics, lets start with the ground phase.
Positioning
In our last raid attempts what we tried was to have everyone spread out and try to avoid the barrage. which did not work out that well. We will go back to the strat of having the group of healers stacked in the middle and the raid spread around the shown in the picture below. Due to healers being locked in one place, it is the DPS's responsibility to ensure that they are in range of the healers, this might be a bit difficult due to the fire spreading which the solution is to use the space you have in the best way possible as Pounding will clear it shortly.. Why are healers stack in one place? That is due to healers being the only members targeted by barrage and it will be only healers that will have to move to avoid barrage. Best way is to go Left and Right and not UP and Down.
On ground phase the added ability is Volatile Firebomb which explodes after 25 seconds, this is a priority target and has to be taken down immediately, as if it explodes it does a massive amount of damage to the whole raid and giving a debuff with increased damage taken to similar bombs. It is almost a guaranteed wipe if one goes off but the good news is it is very easy to get rid of them so this should not be an issue.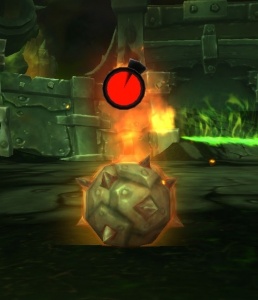 Air Phase
Everything is same as Heroic apart from the 4 new added Bombs. These bombs will have to be gotten rid of in a Priority. I will list them as such. All bombs increase your damage taken by 50% upon detonation. They must not detonate.
Quick-Fuse Bomb
This bomb Detonates within 12 seconds and has to be killed Asap
Burning Firebomb
This bomb will detonate withing 40 seconds and the attacker will recieve a 15% more damage taken debuff and this stacks. You cant focus fire it for long and you will have to switch to another bomb when you notice you're stacks are hurting you.
Reactive Firebomb
This bomb will detonate after 30 seconds and they way to get rid of it is to jump on it by clicking on it, but only tanks and classes with dmg reduction/immunity spells can do it such as Detterance, Bubble, Cloak of Shadows etc.
Reinforced Firebomb
This bomb detonates after 1.25 min inflicting massive damage to the raid causing a wipe, it has a larger health but it has a longer duration before it explodes so it is last as a priority , but still important.
After the Air phase is done, it will return back to Ground phase and then Up again, hopefully we won't get another Air Phase but with first kills it is known to happen so no panic.
Here is a Video of Fatboss to give a General Idea of the Boss Fight. Have in mind however we will use a healer stack up positioning